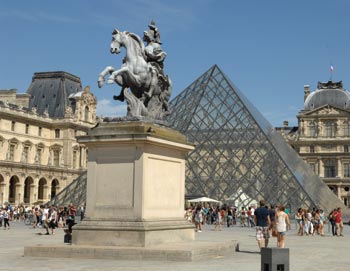 The Best of Paris
Šis ceļojums "Parīzes Pilna diena" ir ideāls veids, kā atklāt visus Parīzes iesk. vizīte pie Luvras un Parīzes Dievmātes katedrāles, kruīza leju Sēnas un pusdienas Eifeļa torni!

Jo visi pieminekļi apmeklētas par šīs dienas ekskursijā atrodas gar Seine, mēs iesakām izmantot neparastu transporta līdzekļus: upe Shuttle. Diena sākas ar ekskursiju apmeklējuma galveno telpās Luvras muzeja, t.sk. Venus de Milo. "," Spārnotais Victory "un" Mona Lisa "krāsotas ar Leonardo da Vinci.

Tad upe autobusu jūs uz Sēnas un iet daudzām Parīzes skaistākajām pieminekļi ceļā uz Eifeļa torni, kur pusdienas (2 kursi iek. Dzērieni) tiek pasniegtas unikālais iestatījums uz jaunu restorānu, kas atrodas 1.stāvā tornis. Ir pienācis laiks atdot, lai apmeklētu pieminekli.

Tad off ar upes atspole atkal Parīzes Dievmātes katedrāles. Ekskursiju šī gotu mākslas darba celta starp 1163 un 1345 ir iekļauts tūres!

Tour ir angļu valodā!

Visas ieejas biļetes un pusdienas ir iekļautas cenā!

Ilgums: 7.5 stundas.

Atiešanas laiki: Tour sākas 09:30. (No Apr.-Okt.. Pirmdiena & T pret saules iedarbību..). (No novembris-marts Pirmdiena, sv. Sun.) Slēgts katru pirmajā svētdienā mēneša. Lūdzu būt atiešanas punkta vismaz 20 min. Pirms sākt.

Luvra Tour sākas 2, Rue des Pyramides, 75001 Parīze un beidzas pie Notre Dame!

NB. Jūs staigāt no 2, Rue des Pyramides, 75001 Paris, ar Tilerī dārzu no Luvras muzeja!
Opening hours
Ekskursija sākas plkst 09:30: No Apr-Okt: pirmdien, trešdien, C., pk, sv..... & Saule No Nov.-Mar. Pirmdiena, sv., Sv. & Saule
Refundable tickets Refundable tickets
Refundable up to 48 hours before performance date. A cancellation fee of up to 20% pr. ticket may apply
Duration: 7 hours 30 minutes
Departure times
The Tour starts at 9.30am: From Apr. to Oct.: Mon., Wed., Thur., Fri., Sat. & Sun. From Nov. to Mar. Mon., Fri., Sat. & Sun
Norādījumi
The Best of Paris
Address
Louvre Museum, Arc du Carrousel, 75001 Paris
English helpdesk

+44 20 3870 3444
Need help with your booking? We will gladly answer your questions.