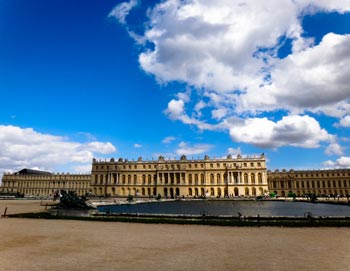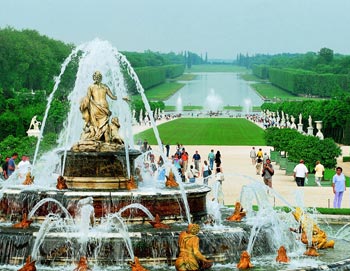 Versailles: Skip the line & audio guide - 4 hours
Apmeklējiet Versaļas pils (ar audio gida) un tās skaistajiem dārziem par savu!

Tas ir Turp no Parīzes uz Versaļas pils ar pārvadājumiem pa greznību un gaisa kondicionieri treneri!

No 1661 Luijs XIV būvēts, kas bija kļūt prestižākajām dzīvesvieta no visiem Eiropas tiesās ar pasaules slaveno arhitektu un dekoratoru, piemēram, Le Vau, Mansart un Le par dārziem Notre.

Lai uzlabotu savu vizīti, mēs piedāvājam īpašas audio lentes, kurā skaidroti dažādi aspekti dzīves Versaļā valdīšanas laikā Louis XIV, «Saules karalis. »Ar autobusu lentes palīdzēs jums plānot savu brīvo laiku, lai apmeklētu Chateau un dārziem.

Jūsu ieejas biļete (ieskaitot), ļauj piekļūt par savu, lai: Royal Apartments, zālē spoguļus, Dauphin un viņa sievas Dzīvokļu un ka kauju galerija.

Audio gids tiks sniegta deviņās valodās tajā skaitā: franču, angļu, vācu, spāņu, itāļu, portugāļu un japāņu..

NB: Ieejas biļetes uz Versaļas dārziem (€ 8) nav iekļauta biļetes cenā, bet ir jāmaksā uz vietas!

Atiešanas laiki: 08:45 vai 2:00 pm. Lūdzu būt atiešanas punkta vismaz 20 min. Pirms sākt.

Ekskursijas Versailles / Versaļas Vīzija sākas un beidzas pie 2, Rue des Pyramides, 75001 Parīze!
Book now
Very Good:
3.9
– 65

reviews
Change date free of charge Change date free of charge
You can now change your booked date free of charge! Simply use the form under Contact Us or send us an email to let us know the new date no later than 5 days before your booked date
Refundable tickets Refundable tickets
Refundable up to 48 hours before performance date. A cancellation fee of up to 20% pr. ticket may apply
What's included?
- Skip the line-ticket to the Versailles Palace.
- Transportation from Paris to Versailles - and vice versa.
- An audio guide.
Norādījumi
Versailles: Guided tour w. skip the line
Address
HOTEL PULLMAN PARIS TOUR EIFFEL 22 Rue Jean Rey 750015 PARIS
English helpdesk

+44 20 3870 3444
Need help with your booking? We will gladly answer your questions.