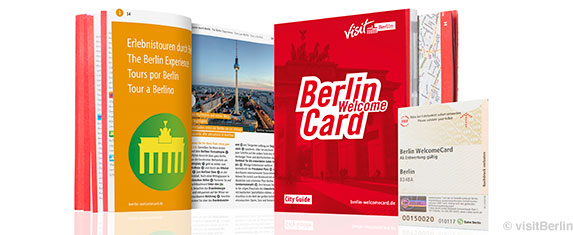 Refundable tickets

Price Match Promise

Bestseller









Berlin WelcomeCard
Berlīne WelcomeCard ir (gandrīz) visu, kas nepieciešams, apmeklējot Berlīni. Berlīnes WelcomeCard dod jums neierobežotu sabiedrisko transportu (zonā AB vai ABC) un lielas atlaides vairāk nekā 200 muzeji, ekskursijas, restorāni un labsajūtu.
Kas ir iekļauts?
- Neierobežots sabiedriskā transporta (S + U-Bahn, autobuss, tramvajs, vietējais vilciens)
- Izvēlieties starp 48, 72 stundas vai pat 4,5,6 dienas
- Ceļojumu iekšā zona Berlīne (AB) vai Berlīne + Potsdam (ABC)
- Bērniem līdz 6 gadu vecumam ir bezmaksas
- 25-50% atlaide vairāk nekā 200 muzeju, atrakcijas un restorāniem
- Ērts kabatas ceļvedis
- Izvelciet pilsētas karti Berlīnes + Potsdam
Izvēlēties savu Berlin WelcomeCard
Jūs varat izvēlēties starp 48 stundu, 72 stundas, 5 dienām vai muzeju sala 72 stundu Berlin WelcomeCard nu Berlīnē (zone AB) vai Berlīnē un Potsdamā (zona ABC).
Skatīt karti zonu
ŠEIT!
Berlin WelcomeCards zona AB ir vaild vienam pieaugušajam.
Berlin WelcomeCards zona ABC ir vaild par vienu pieaugušo + maks. 3 bērni (līdz 14 gadiem).
Muzeju sala WelcomeCards ietilpst arī bezmaksas ieeja visos muzejos uz Muzeju salas (Museumsinsel), kas trīs dienas pēc kārtas. Dažas īpašas izstādes tiek izslēgti. Bezmaksas informatīvais brošūra ir pieejama 5 valodās (angļu, vācu, itāļu, spāņu un franču).
Vai ir atlaide bērniem?

Nē, bet bērniem vecumā no 6-14 gadiem ceļot bez maksas kopā ar pieaugušo Berlin WelcomeCard ar zonas ABC. Bērni vecumā līdz 6 gadiem, ir bez maksas, ceļojot ar maksājumu pieaugušo holdinga nu kartes veids.

Kā es varu saņemt savu biļetes?
Neilgi pēc tam, kad jūsu rezervācija ir pabeigta jūsu e-biļete tiks nosūtīta tieši uz jūsu e-pasta adresi. Vienkārši izdrukāt un dot to uz jebkuru no vairākiem apmeklējums Berlīnes birojiem visā Berlīnē, un kur apmainīties ar to jūsu Berlīnes WelcomeCard lidostas,.
Redzēt, kur apmeklējums Berlīnes biroji ir
ŠEIT!
Ticket categories
Child tickets are free: 0-6 years unlimited, 6-14 years max. 3 children. Please choose ticket number first, then zone and duration. Price depends on selected zone and duration.
Adult (15+)
Opening hours
Tavs Berlīne WelcomeCard ir derīga vai nu 48 stundas, 72 stundas vai 5 dienām.
Book now
Fantastic:
4.5
– 335

reviews
Change date free of charge Change date free of charge
You can now change your booked date free of charge! Simply use the form under Contact Us or send us an email to let us know the new date no later than 5 days before your booked date
Refundable tickets Refundable tickets
Refundable up to 48 hours before performance date. A cancellation fee of up to 20% pr. ticket may apply
Price Match Promise Price Match Promise
If you find a better price for this product within 48 hours of completing your booking, we will refund the difference in price in full.
Opening hours
Tavs Berlīne WelcomeCard ir derīga vai nu 48 stundas, 72 stundas vai 5 dienām.
What's included?
- Unlimited use of public transportation in either fare zones Berlin AB or zone ABC.
- Card valid for either 48 or 72 hours - or 4, 5 or 6 days.
- Up to 50% discount.
- A pocket guide with tour suggestions and a city map.
- Bring up to 3 children of the age of 14 and under - they travel free of charge.
English helpdesk

+44 20 3870 3444
Need help with your booking? We will gladly answer your questions.